Who We Are
Contrivance Electrical is a residential and commercial technology solutions company. We design, install, and service innovative building management systems throughout the Northeast.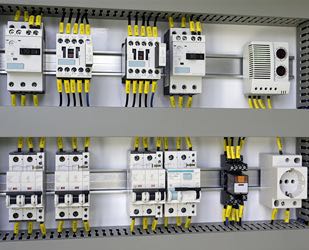 With a wide skill range and deep real-world experience, Contrivance Electrical is well-equipped to meet diverse needs for clients including homeowners, business owners, schools, and government agencies. Our building technology solutions help you:
Protect your property
Ensure personal safety
Maintain environmental comfort
Simplify workflows
Oversee system management
Our Process
Every project begins with a free detailed site assessment, during which Contrivance Electrical can discuss your goals, assess your existing system (if applicable), and evaluate the needs of your facility based on size, usage, occupancy, and other factors.
After this assessment, Contrivance Electrical will provide professional recommendations and propose a building technology solution that suits your needs and budget. Our specialists custom design every solution utilizing open-source platforms, which can be changed in the future if you choose. The result is a high-end solution that meets your specific needs without locking you into expensive proprietary technology.
Finally, we'll work with you to develop a custom-tailored maintenance plan to keep your system running in top condition.
OEM Partners:
Genetec
Axis Communications
Leviton
Emme
System Certifications:
Physical security
Fire
Automation
Networking
Contrivance Electrical is fully licensed and insured, holding multiple industry and OEM certifications.